(There's always somethin' cookin'
with Rogues on the Run!)

We are back at the Ragin Cajun most Tuesday nights.
Keep an eye on our schedule page for more upcoming gigs.

Here is a nice picture from 2007 - 2008 timeframe.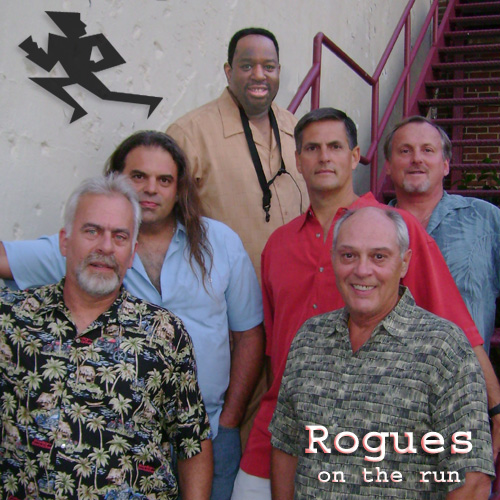 Jack Hoban's solo project, BellaMar, is now out. Click here to go to the BellaMar webpage.

The Jersey Blue album is out, too! Bernard "Pretty " Purdie, Gene McCormick and Jack Hoban.

Gene Boccia was wearing a Rogues on the Run T-shirt during an explosion at work. Gene credits the T-shirt with saving his life with it's special roguish powers. us to get one of your very own!

Rogue on!

The Rogues were #1 on MP3.com world-wide with the cross-over hit "Night Shift."

You can download it free here.

OK, here's the latest scoop on new music:
SALMON: We have compiled a virtual CD of old and fairly new Jack Hoban & Rogues on the run songs. We've named it "Salmon," because getting this done with everybody busy living and working, etc. made it feel like swimming upstream. If you see us live, you'll know a lot of the songs ; there are also a couple surprises for you. Check it out, pick it up here. Thanks for your patience.

BellaMar: One of the reasons that it took so long to decide what to do with "Salmon" is that we had been doing a lot of acoustic shows and the direction of our music was evolving. Now that Salmon is done, we are moving on. At this writing there 9 of a possible 10 or 11 new songs mostly finished for the next, NEXT CD, tentatively entitled "BellaMar." For those of you from the Jersey Shore, BellaMar is our romanticized version of our home-base, Belmar. These songs are more languid than the rock/blues, "electrified" version of the Rogues that you may be used to. But its pretty good—and its a side of the band that you might like. Check out Secrets or Halfway to the Moon to get a taste. And NO, we are not going soft. There is plenty of rockin' blues left in the bag.

By the way, have you seen our video? The Asbury Park Press came by Tracie's Ragin' Cajun (see links page) to check out the band's acoustic show. They posted three video clips on their website here. You'll need Quicktime.

See anybody you know? We're International!
RADIO HOLSTEBRO 97,4 MHZ
CABLE 89,0 MHZ
Kjell Andreassen
January, 28, 2003

ARTIST/SONG/LABEL

Blues Noir/Talk some trash/Own
Al Hughes/Hustling the blues/VaudioVille Records
Mike Dugan and the Blues Mission/A step ahead of trouble/Rave-On Records
Lights out by Nine/Feel like Robert Johnson/VaudioVille Records
Shemekia Copeland/Livin´ on love/Alligator Records
Coll vs Costa/Turkey on the barn/Gaztelupeko Hotsak
Patty Benson/Poor ole you / DWM Music
Paul Zunno Band/I found my soul/Own
Deke McGee and the Blue Rockets/Gravy train/Own
Stefano Malatesta Trio/Memfis trein/Own
Rogues on the run/I got the blues/WIN Records
JcLake/Abuse blues/Own
Alice Stuart/Big boss man/Burnside Records
2. HOUR
Little Toby Walker/Mortgage on my soul/Own
Jimmy Johnson & Chicago Dave Blues Band/That will never do/Brambus Records
Up to Fly/She ain`t got what you got/Ctosstown
Big John Shearer/St. James Infirmary/Blue Side
Gus McKay/Deep river/Own
Mike Andersen Band/How do you sleep at night/Black & Tan
Oriazul/Manuela/Africa Production
Shawn Pittman/New king in town/Own
La Bacanal/De la puerta afuera/Own
Soum Bill/Gneze/Africa Production
Joe Valeriano Band/House is rockin` /Own
Doug Munro/Doggett/CMG
Gus McKay/Creakin` by/Parachute
Dockery Dawgs/Fixin` to die/Sonor Records
Lloyd Jones/Nickels and dimes/Blind Pig Records


WE'RE FAMOUS!
ROGUES ON THE RUN FEATURED IN:
Complete Idiot's Guide to Music on the Internet with MP3
by Nat Gertler, Rod Underhill

List Price: $19.99
Our Price: $15.99
You Save: $4.00 (20%)
Look on page 200 for a bio and picture of the band. Listen to the smash MP3 hit Bogeyman on the enclosed CD. Click on book for more info or to purchase.